Tablet & Peripherals Playbook for  Healthcare
An "All Things Considered" Guide for Hospitals & Healthcare Organizations
Your walk-through guide to selecting the proper tablets and accounting for all the peripherals needed for a successful patient electronic signature project.
On-Demand Webinar
Halifax Health & Parkview Medical Center discuss the tablets, cases, charging stations, etc that work for their clinicians and patients.
Before You Begin | How to Use This Guide
Mobility.  That's what tablets really unlock in the world of healthcare.  It's really simple; if you want to properly bring technology to deliver better patient care to the bedside, you need tablets.  However, the world of healthcare is unique, and simply ordering a bunch of tablets will not solve a single problem. 
There is much more that goes into implementing a successful tablet initiative for your hospital or healthcare system, and we've built this guide to provide you a no-nonsense clear pathway to success.  In the content to follow you'll find a tremendous amount of knowledge, strategy, stories from other hospitals, recommended products, etc. 
How to use this guide
This guide can be read in one of two ways…
Comprehensive |

We've built this guide to flow in a logical way from start to finish.  If you read this all the way through you will be an absolute pro regarding the business of successfully creating a tablet strategy, and then successfully executing the plan.  Everything you need to know to avoid failure, and achieve success is right here for you.

Selective | Look, we know you've got a lot going on and life is very busy.  For those of you who are just looking for a couple nuggets of wisdom, we have grouped key concepts into "chapters", and have authored each chapter so that it can stand alone.  In other words check out the chapters below if you're looking for something specific, click on that chapter, and it will take you directly to that content.
Thank you so very much for having a look at this content, and we sincerely hope you find it to be helpful.  If we can do anything else whatsoever for you, please don't hesitate to reach out and ask.  We are here at your service.   
Chapter 1 |
Introduction and Overview
According to a report from the Pew Research Center for Internet and Technology, 96% of Americans own a smartphone or tablet. We use these devices to make our everyday lives easier and more enjoyable.  We even consider and add-on an array of peripherals to our devices to protect them (cases), make them easier to handle (pop sockets), and to take near cinematic videos (moment anamorphic lens).  We look at all of these products to ensure the device, along with all the add-ons, are as conducive and beneficial to our lives as possible.
If only selecting tablets, and the accompanying peripherals, were that easy for a hospital.
Identifying the right device is just the start. Hospitals have the added challenge of finding the proper peripherals that are appropriate for a complicated and busy healthcare setting.  Most tablet peripherals are either consumer grade or are made for retail environments.  In other words, they can't stand up to the demands that healthcare requires.  Furthermore, there are many more aspects to consider such as charging stations (flat surface and/or wall mounted), locks, styluses, tethering, accountability, infection control and more.
Then there's the issue of usability.
Tablets are likely to be used by clinicians and patients.  Each has a unique perspective and needs, and it's daunting to select the proper tablet, along with the set of peripherals, that works for everyone while meeting the unique enhanced requirements required by healthcare.
At Access, we provide electronic forms and electronic consent solutions to hospitals, and almost all our customers ask for guidance in the area of selecting the best tablets and accoutrements for the job of eConsents.  Historically, we've provided generic guidance, which sent customers searching for hospital-grade tablet and peripheral solutions in a very big and noisy space.  This guide is intended to remedy this, and to provide hospitals with some specific products to look at, along with some "not so obvious" things to consider such as why you should screw the charging station plug into the outlet.
Our customer, Parkview Medical Center (PMC), is a 370-bed MEDITECH hospital in Pueblo, Colorado, that embarked on its own journey to find the best tablets and peripherals for clinicians and patients.  Along the way, they discovered some fantastic products, and learned a tremendous amount about what works, what doesn't work, and things they didn't  think of or consider at the outset that were critical for success.  PMC has been extremely generous in working with Access to help us curate this information, along with sharing numerous "lessons learned" as they put devices out in the hands of their clinicians and in front of patients. 
It's our hope that this information guides you along a good direction, or at least helps you pinpoint what your hospital needs to ensure a successful tablet initiative. 
Parkview Medical Center is a private, non-profit teaching hospital located in Pueblo, Colorado. The hospital uses MEDITECH as it's EHR and has 370 licensed beds. PMC serves their community providing approximately 14,500 admissions, 70,000 emergency department visits, performs approximately 6,000 inpatient surgeries, and 6,600 outpatient surgeries.
Chapter 2 |
Who should read this
This book is written with these healthcare professionals in mind:
+

Patient Experience Directors
+

OR Directors
+

Surgeons
+

Doctors
+

Nurses
+

Infection Control
Here's what the playbook covers:
+

The first step } mutually define success with stakeholders
+
Tablet Section
+
Centralized Tablet Management
+
Protecting your devices: case selection
+
Protecting your devices: security 
+
Protecting your devices: germs, wear and tear
+
Charging best practices and considerations 
+
Using a stylus for eSignatures
+
The right ratios
+
Close
Chapter 3 |
The First Step | Mutually Define Success with Stakeholders
If you want to know how to start the process of finding the right device and peripherals for your hospital, the answer is: don't.  As in, don't just jump in and start researching products. Don't read reviews. Don't watch YouTube videos, etc. 
Don't take any of these steps until you do this one critical thing: define success among your stakeholders.
Finding and implementing the right device and peripherals starts with having clear understanding of the what the end-users (patients and/or clinicians) need from the device to do their job and have the best experience.  Speak with these people and create a matrix of needs. Then you can proceed with a clear understanding of end state you seek.   Remember, not all devices or accessories will work for all areas or users. Strive for a "silver bullet" that meets all or most of the needs.
PMC discovered that its different end-users had different needs, specifically related to aspects of the case such as durability and infection control.  However, more nuanced aspects of end-user engagement became clear, such as the need for the device and case to work for users wearing rubber gloves. Gaining these valuable insights from users at the outset helped the PMC staff significantly narrow the field of what devices and peripherals could be candidates for consideration. 
Picking the right tablet and peripherals must begin with collaborative understanding of needs by key stakeholders.
Chapter 4 |
Tablet Selection
There are numerous tablet manufacturers in the marketplace today and each offers an array of models. We see devices such as Amazon Fire tablets being used at some clinics, but for the purpose of this guide we're going to focus on the tablets we most commonly see in use in the acute care hospital setting.
Furthermore, we're not going to focus on convertible laptops or slate devices in this guide.  We're keeping this limited to true tablets with a focus on acute care hospitals.  This poses an interesting quandary because the two devices we see most commonly used in hospitals are the iPad, and the Microsoft Surface.  There are many good articles on the internet – like this one – that compare these devices.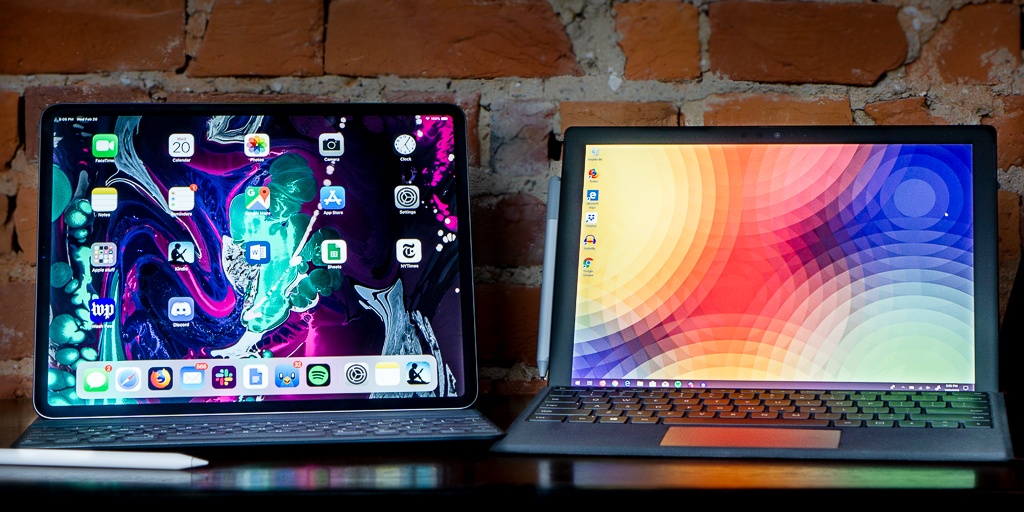 iPad Pro vs. Lenovo ThinkPad X12
This is where we can branch off really quickly due to the primary use in hospitals of both of these devices.  You see the MS Surface is a full PC with plenty of computational horsepower.  Because of that we often see Surfaces used by doctors for their standard workflows.  However, we generally don't see Surface devices put in front of the patient, and for good reason.   Pure tablets generally serve as a low-cost, semi-expendable device that provide a secure and limited experience with the EHR.  If you're going to hand the device to a patient, that's exactly what you want. It will ensure you don't inadvertently hand them complete access to your EHR through a physician-grade device.
Generally speaking, it's fair to say that from a pure tablet standpoint iPads are emerging as the clear winner in the hospital space.  Have a look at the specific focus Apple is placing on healthcare.  Contrast that with Android devices such as Samsung, which has a slight focus on healthcare.
Simply put, we're going with the momentum we're seeing around Apple iPads in hospitals. In this guide, we'll focus on which iPad is best, and then take a look at the peripherals that work best for hospitals.  By the way, it's critically important to know how an iPad will interact with your EHR – especially if you want clinician buy-in.
PMC's winning tablet: 11" iPad Pro
PMC field tested the 11" iPad Pro at $749 and the 12.9" iPad Pro at $999, and the results were interesting.  The clinician feedback focused on three aspects:
+ The larger screen of the 12.9" iPad provided a slightly nicer experience compared to the smaller iPad
+ The battery life was essentially 6 hours for the 11" and the 12.9" iPad
+ The additional bulk of the larger iPad and its larger case was burdensome when mobility was a primary goal.
Ultimately, the verdict was that the benefits of the slightly larger 12.9" screen were outweighed by the slightly slimmer 11" iPad.  The extra cost savings afforded by going with the smaller device was greatly appreciated by PMC administration.  After all, how often do Clinicians actually like the less expensive option in anything?
Patient Experience Note | LCDs vs. Tablets
Many hospitals leverage LCD devices from companies such as Wacom and Topaz for capturing patient electronic signatures on consents in the Registration areas.  These devices get the job done but the patient experience may not be ideal as patients can't see the digital document they're signing.  Because of this, hospitals present the patient with a laminated copy of a Consent form, and simply tell the patient what they're signing and ask them to put their signature on the line by the "X". It's not uncommon for patients to be hesitant to electronically sign these documents due to the heavy nature of healthcare consents.  Because of this, we're seeing more hospitals adopt tablets not just for mobile applications at the bedside, but for fixed workstation areas such as Registration.  Doing this lets the patient see the complete electronic consent and their electronic signature applied directly to that specific form.  PMC uses this approach and they report very high patient satisfaction, which can be connected to reimbursement.  PMC also reports a time savings of about 25 seconds per registration and an overall print cost reduction of 85% for Registration. 
In PMC's clinical areas, Admission Representatives register patients at their workstations on wheels. The specialists then "hand-off" the forms to the iPad and present the tablet to the patient at the bedside for their eSignature. PMC has found that using tablets simplifies and streamlines the registration and clinical processes, and boosts patient satisfaction.
Pro tip: Weigh the extras – like larger screens – to ensure they're worth the ROI.
Chapter 5 |
Centralize
d Tablet

Management

Selecting the right tablet is just the beginning.  We've seen hospitals order hundreds of iPads only for them to arrive, and then sit in the corner for months.  One of the biggest factors hospitals must consider is how they'll set up the tablets and manage them on an ongoing basis at scale.  This is especially important for hospitals that operate multiple locations.  Once you implement the tablets, tracking them down so you can perform maintenance and updates can be vexing.

PMC employs a strategy of Mobile Device Management (MDM) that enables them to centrally manage all of their iPads.  Effectively managing the devices that are spread across the hospital, constantly in use and moving is extremely difficult without their MDM strategy.

Pro tip: Use an MDM tool to update every app – without touching every tablet.  
Chapter 6 |
Case Selection
Cases are tremendously important because they sit between end-users and the actual tablet, and they can dictate an end-user's experience.  There are many rugged tablet cases to choose from from great companies such as LifeProof, Otter Box, Griffin Technology, and others.  However, when you search for the best healthcare tablet cases that can not only  protect devices, but also be disinfected over and over again, the list gets significantly shorter. 
PMC researched an array of cases and narrowed the field to two, which the hospital then piloted. The plan was to let the staff and clinicians pilot the iPads with the two cases in the actual care setting, putting them in front of patients, and then determine which one worked best.    
Pro tip: Give staff a voice in the tablet and case selection process to ensure their engagement and support.
Ultimately, PMC decided to leverage the FlipPad Secure from FutureNova.  PMC also tested the aXtion Bold from Joy Factory.  However, this device proved to be less than ideal because the screen cover scratched under repeated use with the metal mesh tipped stylus, and the velcro handle proved difficult to adequately sterilize for infection control.
Pro tip: Pick cases in bright colors so it's easy for tablets to be seen.
Best Antimicrobial Tablet Cases for Hospitals
FutureNova FlipPad
Retail price: $195
Ultimately, the FlipPad Secure from FutureNova was selected by PMC at the urging of its staff. FutureNova is based in the UK and focused on designing world-class tablet cases exclusively for the needs of healthcare.  In addition to durability, the unique benefits that the FutureNova cases provided included:
Pros
Glass screen prevented scratches from repeated use of metal mesh tipped stylus
Glass screen worked well for clinicians wearing latex gloves
The "kickstand" on the back provided multiple options for holding the device. For example, users could simply grasp the handle or drape the handle over their forearm.  This provided a big advantage to clinicians as they could still have some utility in the hand holding the device
The color was bright, which made it easy to spot
The device could be securely tethered
The FlipPad Secure could be easily disinfected
Tablet case is antimicrobial
Nothing is perfect though, and there were some cons associated with the FlipPad Secure:
Cons
They're a bit expensive retailing for $195
While the kickstand was great while the device was in-hand, it also created a logistical problem due to the extra bulk.  PMC couldn't easily stack the devices, or occupy all available charging ports in a dock.
To charge the device you have to open a flap at the bottom and plug an iPad charger directly into the iPad inside the case.  This could be the "achilles heel" for those that have an intense focus on infection control because once you open the flap to charge the iPad is is no longer completely enclosed.
FutureNova also has a product called the FlipPad SlimLine, which has the benefits of the FlipPad without the kickstand so it easily occupies all the slots in most charging stations.
InnerVision Tough-PAC
Retail price: Approximately $150
*
* This price exclusively represents the cost of the tablet case.  A dedicated charging station from Inner-Vision must also be purchased to charge the iPad, and that cost is not included in this price.
The Tough-Pac from Inner-Vision is used at other hospitals such as Halifax Health System.  Another tablet case maker hailing from the UK, Inner-Vision have a specific focus on making tablet cases for the healthcare environment.  It is quite clear that Inner-Vision places a very high focus on infection control.  Once you place a tablet inside on of their cases you never expose the tablet to the outside world again.  This does however mean that these cases only work with Inner-Vision supplied charging docs.
Pros
Glass screen prevented scratches from repeated use of metal mesh tipped stylus

Glass screen worked well for clinicians wearing latex gloves

The big handle allows for easy handling and a secure grip of the tablet.
The color was bright, which made it easy to spot
The device could be securely tethered
The case is easily disinfected
Tablet case is treated with Biomaster® silver ion technology that kills or inhibits growth of bacteria and fungi by more than 99.6%
The only medical grade iPad case tested and certified to the international ISO22196 anti-microbial standard
Tablet is completely enclosed and does not need to be exposed for device charging
As with the FlipPad there are a few drawbacks:
Cons
The Inner-Vision Tough-PAC requires a dedicated charging doc made by Inner-Vision.  When you're buying these cases you MUST factor that into your cost equation
Their largest charging station only accommodates up to four iPads at a time
The charging docs (single or the quad station) can only be placed on a flat surface and can not be mounted to wall.  This can be a significant factor for certain nurses workstations that have limited free flat space available
The cases come in only two colors: gray and orange
There is no obvious way to tether the cases or secure them to a workstation by using something like a Kensington lock system
Chapter 7 |
Preventing Healthcare Acquired Infections
Resources:
Centers for Disease Control and Prevention | Healthcare Associated Infections Data Portal
Health care-associated infections – an overview
According to the Centers for Disease Control and Prevention (CDC), in 2015 there were an estimated 687,000 patients who acquired Healthcare Associated Infections (HAI) during their stay in U.S. hospitals.  Approximately 72,000 of those patients died from those infections.
HAIs are a top concern for hospitals and they go to great lengths to prevent them.  When considering a tablet case for your healthcare environment, tablet infection control must be of paramount importance.  If the case meets all your needs, but can't be effectively disinfected, then it's a not an option. Period.  With that being said, searching for tablet cases made exclusively for healthcare is a good starting point.  Once again, this is where FutureNova shines as the company is completely healthcare focused with design and development of their cases.
Other cases do come up when you Google "healthcare tablet cases," but that doesn't mean they're well-engineered with infection control in mind.  As a guideline, look for any soft surfaces on the cases, often found on straps, as these are perfect places for infection agents to hide and pose a threat.  Disinfecting soft surfaces such as elastic and Velcro can prove to be quite challenging and should not be considered for healthcare use. 
Pro tip: Avoid soft materials on tablet cases such as elastic and Velcro, as they can prove difficult to disinfect.
Read more | HOW TO PREVENT TABLETS FROM SPREADING INFECTION IN YOUR HOSPITAL
Chapter 8 |
Human Behavior and its Influence on Device Wear & Tear
Through the pilot phase of the tablet initiative, PMC discovered something interesting regarding the correlation of accountability, and device wear and tear.  Initially, PMC assigned tablets for general use to certain areas in the inpatient care setting.  Over time, PMC noticed the rate of wear and tear on these devices progressed faster than initially anticipated.  PMC decided to alter its strategy and implement policies that promoted direct ownership of the devices to designated individuals.  That meant iPads were designated to be shared among specific individuals.  The result?  A 75% reduction in the rate of wear and tear on the devices. 
What can be learned here?  This delves into human psychology but when PMC asked individuals how and why their mindsets changed, three common themes emerged:
Once individuals were named "owners" of certain devices, they felt publicly accountable to ensure their tablet was taken care of
Given the iPads were shared by individuals, they felt accountable to each other to take care of the device – no one wanted to be responsible for ruining the group's iPad
Individual owners wanted to ensure their device was in good shape so it could help them do their jobs
Pro tip: Assign an owner to each device to minimize wear and tear.
Read More:  REDUCE WEAR AND TEAR ON YOUR HOSPITAL'S PATIENT BEDSIDE TABLETS
Chapter 9 |
Preventing Tablets from "Walking Off"
Tablets provide mobility possibilities in hospitals like never before, but this mobility can quite literally get out of hand.  Meaning, devices can accidentally be misplaced or "walk-off" in the hands of more nefarious characters. 
What's the solution?  Try Kensington Locks or some other means of securing devices when they're not in use. 
PMC locks their tablets to their workstations on wheels when they're not in use, and as a result, haven't had issues with iPads walking away.
Pro-tip: Secure devices with locks on the tablets and charging stations.
Chapter 10 |
Tablet Charging | Best Practices, Considerations and Policies
Nursing work stations are hubs of activity with people, devices and paper constantly flowing in and out of the department. Bringing tablets into this area certainly can help improve the lives of these clinicians but make no mistake: These devices are just one more thing the clinicians have to care for.  A big part of caring for tablets is ensuring the devices are charged. Your hospital should consider a few angles when thinking about how to charge tablets in the inpatient care area.
Essentially, there are two logistical factors to consider when deciding on the type of charging apparatus:
Flat-surface charging station
Wall-mounted charging station
Flat-Surface Charging Station Considerations
Most people rightly think of and consider charging apparatuses that would sit on a flat surface such as a desk, workstation or shelf.  As PMC researched options, they discovered that most of the charging station market is saturated with flat-surface charging devices, and there are some good choices out there.  The only problem?  It's tough to find available flat surface on a nurse's workstation.  The same thing can generally be said for other areas such as Registration.
PMC ultimately field-tested, and still uses a charging station from SIIG. The product retails for $79.99 and can simultaneously charge eight iPads at once.  PMC has seen good results with this device and has received good feedback from users.
A Note on Overheating
PMC nearly learned the hard way how the concurrent charging of multiple iPads can generate a damaging amount of heat.  With little flat surface availability in inpatient areas, PMC placed the charging station on a shelf in a cabinet.
The SIIG charging station and some department iPads were put on a shelf in a cabinet, and the door was closed.  About 15 minutes later, IT checked on the devices only to realize that there was a considerable amount of heat that had built up inside the cabinet.  Left unchecked, the heat could have damaged the devices or worse.  Ultimately, the PMC facilities team equipped some of these cabinets with ventilation and resolved the threat of heat build-up.
Not having sufficient flat surface space in any of the inpatient care settings still proved to be a challenge for PMC.  Realizing these departments had vertical space available, PMC began exploring wall-mounted charging options.
Wall-Mounted Charging Station Considerations
Finding a wall-mounted charging station that could hold and charge several iPads in relatively thick FutureNova cases proved to be a serious challenge.  After a long search, PMC ultimately found a suitable option from Displays2Go, which retails for $175.99.  While more expensive than a flat-surface station, PMC found it to be well worth the extra expense.  Also, it's important to note that certain tablets – such as the Inner-Vision Tough-PAC mentioned above – require their own dedicated charging station that can't be mounted directly to a wall.  In other words be careful about selecting certain tablet cases as they may limit your option to mount charging stations to a wall.
Securing the Charger
One of the challenges encountered by PMC was charging stations that were being unplugged from the wall. This meant there would be six or so iPads without any battery life, as opposed to being charged as expected.  Naturally, this left some clinicians in a bind when it was time for them to get to work and their tablets were almost dead.
PMC learned that people were unplugging the charging stations because they needed the outlet to charge their personal iPhones or devices. As a result, PMC found a device that allowed them to secure the power outlets, and the tool has worked well.
iChargerlock
Retail price: $12.95
Purchase site: Click here
Device Charging Guidelines
PMC wanted to provide a guideline for users to answer the question of, "At what point do I need to charge the iPad?"  PMC created a guideline for iPads to be charged once their battery power is below 20%.  This meant that each tablet provided 18 – 24 hours of use before needing to be charged.
Chapter 11 |
Patient Electronic Signature Experience: Fingertips vs. Stylus
Essentially, there are only two ways a patient will electronically sign eConsents on a tablet: using their finger or with a stylus.
The More You Know: What is the plural form of stylus?  After much research the generally accepted plural notation of stylus is styli. 
PMC initially wanted to keep things simple, and not introduce a stylus as they're just one more thing to buy, stock and maintain. For the most part, patients were okay using their finger to electronically sign Consents on tablets.  However, the older patients, generally those age 75 or above, seemed to consistently have usability issues when using their finger to sign.  Many of these patients tried to use their fingernail to sign – which isn't capacitive and can't be sensed by the touchscreen – instead of their fingertip. 
In an effort to provide the best possible patient experience for all ages, PMC introduce styli to give patients the preferred feeling of a pen. There are generally three types of styli and PMC tested all of them with patients and clinicians alike.  Here are their findings:
Best stylus for healthcare (from best to worst)
Rubber tipped stylus
Pro-tip: Keep the age of your patients in mind when selecting tools like a stylus.
A Stylus Breakdown & Comparison
In this video we really get into comparing the three most common stylus types.  The primary focus is on the user experience – patient and clinician – in using the stylus on an iPad.  
There are two questions we look at answer in this video…
should a patient sign the Consents with their finger or a stylus?

if you're going to use a stylus, which type provides the best patient experience?
Also, we'll directly compare three common stylus types
rubber tipped stylus

disk tipped stylus

metal mesh tipped stylus
Related Blog: Click Here
Chapter 12 |
The Right Tablet Ratio
After evaluating different tablets and the related tools, comes the all-important question: How many devices does my hospital really need?
After having an opportunity to use the tablets, end-users at PMC were able to share what they felt was the appropriate tablet ratio required for different care settings:
Registration
PMC leverages one iPad per Registration workstation and an extra iPad in reserve for every five Registration workstations.
Inpatient
PMC has one iPad for every five patients.
Surgical Services
PMC discovered that a 1:1 iPad to OR bay ratio was sufficient, along with one extra iPad to serve as a backup.
As your hospital embarks on its journey, you can use PMC's ratios as a guideline but know that these ratios may not be the perfect fit for your hospital.  Make it clear to your users that these ratios are a starting point and that you'll seek their feedback on what working and isn't working.  Take their feedback into consideration and make adjustments as needed.  This will ensure your hospital invests in the right number of devices and accessories, and has the buy-in of those who will use them each day.
Pro-tip: Asking for feedback from end-users will boost their buy-in and adoption of your tablet initiatives. 
Chapter 13 |
Close
Identifying the right tablet for your hospital starts with defining success. But the process isn't over once your hospital determines its goals and pinpoints the right device.
Hospitals have the added challenge of finding the right accessories – cases, charging stations, locks, styluses and more – that can perform on-the-go, withstand contact and serve a variety of users and ages.
The intention of this guide is to help you learn from our experience and that of PMC to help guide you along your path.  Contact us for more pro tips, takeaways and best practices uncovered by PMC and other Access clients.  
READY TO GET STARTED?
PUT THE HEALTHCARE ESIGNATURE STANDARD TO WORK TODAY